How many times have you found yourself rebuilding again? If you're like most people who have lived a while, you know it is possible to find yourself rebuilding at any time. So you know how difficult that process can be. Age plays no role in experiencing a life-altering event that may cause us to rebuild our lives. Children may have had friends or parents who have passed away due to illnesses or tragic events, or who were no longer in their lives due to divorces, or other reasons.
Several years ago, my dear friend and business partner of many years became very sick. He was diagnosed with cancer, had surgery and chemo, and passed away. He had too many unaccomplished goals! So I found myself rebuilding my life in a big way, making decisions about the business we had, and its future without his skills and strengths. That type of rebuilding doesn't happen quickly. It takes time, consideration, and planning. But I still had to go forward.
We Can't Change the Past 
While we can't change what has occurred in our lives, we can look for the best ways to move forward. We have to forgive and move forward. Unfortunately, life doesn't stop when our world turns upside down. So when life happens that changes our lives and plans, we have to hit pause, think, and adjust present and future plans. For instance, I had responsibilities to handle, two jobs, people to help, a car that died, had to search for another car and find one quickly, and had to handle other major transitions. Each of us has to walk through the healing process at a pace that we alone can handle. Most important to me in my healing process was asking God to help me heal in healthy ways so I wouldn't drift into busyness to mask the pain. It seems like I've had a lot of practice rebuilding my life, so I'm guessing that it's probably not your first trauma or loss either.
What is to be Learned?
Since it wasn't my first time rebuilding, I had to think about what I had previously learned when rebuilding my life. In my rebuilding processes, I've learned that we have to allow ourselves the time needed to work through the shock of the trauma or loss. Why? Because we simply need to stop, hit pause, and think seriously about how our new life will look. For instance, someone we interacted with by phone, text, or face-to-face daily is gone. Consider the possible next steps. Also, remember that when we are in shock, we do "not" typically make good decisions. So hold off on those big, important life-changing decisions (whenever possible) until you can again think clearly enough to consider all options and make wise choices. I say that because not only is there shock but there can also be nights of not sleeping well due to all that is happening. That lack of sleep can lead to brain fog, an inability to think clearly, and to make wise decisions. Healing is a slow process. Give yourself permission to go at a speed that is comfortable for you. Pay attention if friends say that you're moving too fast too soon with decisions. If you believe it's time to move forward with a major life decision, then do it. Remember, God wants us to have peace about the decisions and choices we make. So if you don't have peace about doing something, don't do it.
Thoughts About Future Rebuilding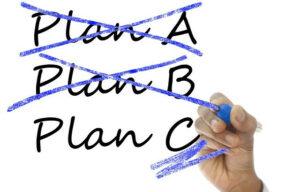 You've just been thinking about what you have learned so far in life when you've found yourself rebuilding. Now consider what you might do differently the next time you find yourself rebuilding. Remember, you might find yourself rebuilding after a son or daughter goes to college, after you move to a new location, when major health changes occur, or after job losses take place, etc. Maybe you could decide which of the items listed below would be helpful or you might develop your own list based on experiences or those of other individuals you know.
Develop a better support group of friends
Be better prepared for an emergency
Establish a strong support group of spiritually like-minded individuals
Consider the basic necessities you need and what you have previously lacked
Think about these aspects of rebuilding—vocational, financial, relational/social/familial, spiritual, emotional, and physical
What other things have you come up with based on your experiences in rebuilding regarding what you might want to do next time?
Conclusion
We never know when we might need to rebuild our lives since we know already in life that we have done that repeatedly. The process can come in many shapes and forms and at any time. However, we can learn from those events and become stronger and better prepared as we move forward. I would love for you to leave me a comment about something important you've learned during your rebuilding experiences. Thank you in advance for taking the time to read this and for sharing.
Your Rebuilding Lives Coach,
Colleen